The Ultimate Experience
Chic boutique hotel in Johannesburg city
The Mapungubwe Faircity Hotel is a chic urban hotel in the heart of the inner city in Johannesburg. Formerly a French bank, the building still retains the original bank vaults, which together with the contemporary African décor gives the hotel its own unique personality. The area is rich in history and culture, with theatres, art galleries and museums nearby to discover and explore.
---
Special Offers
Mapungubwe - Mad Giant Beer Tasting
Calling all beer lovers! During the month of November, we're taking you on an insightful beer tasting journey for only R1390.00 for 2 people. The price includes 2 beer tasting vouchers, luxurious accommodation, a complimentary shuttle to Mad Giant Brewery as well as a delicious breakfast.
Read more
Mapungubwe - Take a walk through the city
Join us during the month of August for an unforgettable walk through the city for only R1530.00 for 2 people. With accommodation, breakfast, a lunch pack, bottled water AND branded caps included in the price, this is as good as a giveaway!
Read more
Mapungubwe - Beer Bucket (List)
Visit us at The Marshall between July and December and only pay for 5 beers when you order a bucket of 6! Valid from Friday– Sunday only.
Read more
Mapungubwe - Picnic in the Park
We're celebrating the arrival of spring with a tranquil picnic in the heart of the Botanical Gardens. For only R1240.00 per couple, you'll receive a delicious breakfast, a complimentary shuttle to the Botanical Gardens, a picnic basket filled with delicious goodies and an evening in our luxurious hotel.
Read more
Mapungubwe - Barnyard Bliss
What's better than an exciting visit to the Barnyard Theatre? Spending the rest of the evening in absolute luxury, of course! Throughout the month of October, you can visit the Barnyard Theatre and bask in the luxury of Mapungubwe Faircity Hotel for only R1300.00 for 2 people. The price also includes 2x Barnyard tickets, breakfast and a complimentary shuttle to Gold Reef City. See you there!
Read more
Mapungubwe - Summertime Savings
From 14 December 2018 – 13 January 2019 we're giving you a full month worth of savings! For only R695.00 for 2 people, not only will you get to spend an evening in our lavish hotel (room only), but you'll also receive free transport within a 5km radius, a free transfer to Gold Reef City and an indulgent breakfast.
Read more
---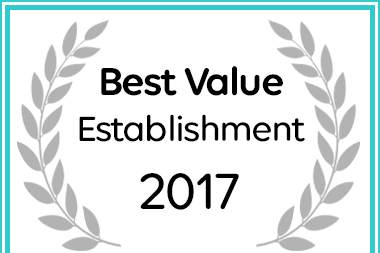 Afristay
named Mapungubwe Hotel in Johannesburg (Joburg) a Best Value Establishment.
---